Introduction to Frozen Food Essentials
Frozen food has become an integral part of our modern lifestyle, offering convenience and versatility when it comes to meal preparation. With busy schedules and limited time, frozen food essentials provide a quick and easy solution for preparing meals without compromising on taste and nutrition. In this guide, we will explore the world of frozen food essentials and discover the wide range of options available for creating delicious quick meals.
Benefits of Frozen Food Essentials
Convenience:
One of the primary advantages of frozen food essentials is their convenience. With frozen vegetables, fruits, proteins, and pre-prepared meals readily available in your freezer, you can whip up a quick and satisfying meal in no time. Frozen food eliminates the need for lengthy meal prep, saving you valuable time during busy weekdays or when you're short on energy.
Extended Shelf Life:
Frozen food essentials have a significantly longer shelf life compared to fresh produce, making them a practical choice for those who want to reduce food waste. Frozen fruits and vegetables are typically picked and frozen at their peak freshness, preserving their flavor and nutrients for an extended period. This allows you to stock up on essentials and have them on hand whenever you need them.
Nutritional Value:
Contrary to popular belief, frozen food essentials can retain their nutritional value. Freezing technology has advanced significantly, and many companies now use techniques like flash freezing to lock in the nutrients at their peak. Frozen fruits and vegetables can often be just as nutritious as fresh ones, if not more so, as they are preserved soon after harvest.
Versatility:
Frozen food essentials offer a wide range of options to suit different dietary needs and preferences. Whether you follow a vegetarian, vegan, gluten-free, or low-carb diet, you can find a variety of frozen food essentials that cater to your specific requirements. From frozen fruits and vegetables to proteins like chicken, fish, and tofu, the possibilities are endless.
Frozen Fruits and Vegetables
Importance of Frozen Fruits:
Frozen fruits are a versatile ingredient that can be used in a variety of quick meals. They are packed with vitamins, minerals, and antioxidants, providing a nutritious addition to your diet. Whether you're making smoothies, baking desserts, or adding them to yogurt, frozen fruits offer a convenient way to enjoy a burst of flavor and health benefits.
Advantages of Frozen Vegetables:
Frozen vegetables are an excellent option for quick and easy meal preparation. They are pre-washed, pre-cut, and require minimal effort to cook. Frozen vegetables can be used in stir-fries, soups, casseroles, or simply as a side dish. They retain their texture and color when cooked properly, ensuring a satisfying meal every time.
Tips for Using Frozen Fruits and Vegetables:
To make the most of frozen fruits and vegetables, keep the following tips in mind: a. Follow the cooking instructions: Each frozen fruit or vegetable may have specific instructions for optimal cooking. Follow these guidelines to achieve the best results. b. Do not thaw before cooking: In most cases, it is not necessary to thaw frozen fruits and vegetables before cooking. They can be added directly to the dish you are preparing. c. Store properly: After opening a bag of frozen fruits or vegetables, ensure that you tightly seal it or transfer the contents to an airtight container. This helps prevent freezer burn and maintain the quality of the food.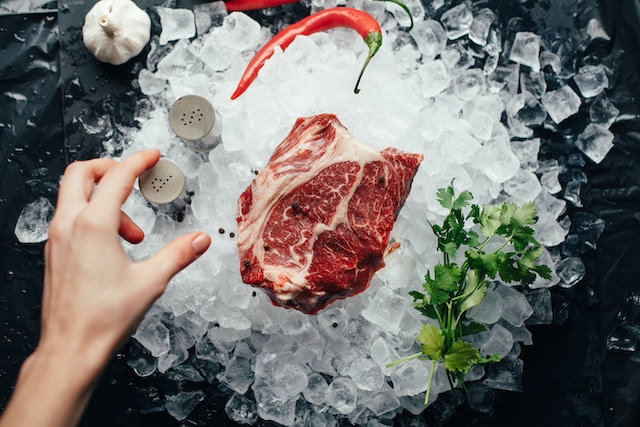 Protein Options
Frozen Seafood
Seafood lovers can enjoy the convenience of frozen fish, shrimp, and other seafood options. Frozen seafood is often flash-frozen shortly after being caught, locking in freshness and flavor. It can be grilled, baked, or pan-seared, making it a versatile choice for quick and nutritious meals.
Frozen Poultry
Chicken, turkey, and other poultry products are widely available in the frozen food section. From boneless, skinless chicken breasts to fully cooked chicken tenders, these frozen options offer a time-saving solution for protein-packed meals. They can be incorporated into stir-fries, pasta dishes, or salads.
Vegetarian and Vegan Alternatives
For those following a plant-based diet, frozen food essentials provide a range of meat alternatives like tofu, tempeh, and veggie burgers. These options are often pre-seasoned and ready to cook, making them a convenient choice for quick meals. They can be used in stir-fries, wraps, sandwiches, or grilled for a flavorful and satisfying plant-based protein source.
Pre-Prepared Frozen Meals
Ready-to-Eat Meals
Frozen food essentials also include a variety of pre-prepared meals that can be heated and enjoyed in minutes. These meals often come in individual portions and cater to different tastes and dietary preferences. From traditional comfort foods to international cuisines, frozen ready-to-eat meals provide a quick solution for those times when you don't have the energy or time to cook.
Health-Conscious Options
Many frozen food companies now offer healthier alternatives in their pre-prepared meal options. These meals are often lower in sodium, unhealthy fats, and artificial additives while being higher in fiber and whole grains. They are designed to provide a balanced and nutritious meal without sacrificing taste or convenience.
Customizable Meal Kits
Another emerging trend in frozen food essentials is customizable meal kits. These kits contain a variety of ingredients, such as frozen vegetables, proteins, and sauces, allowing you to mix and match to create your own unique meals. They provide a convenient way to experiment with flavors and create personalized dishes without the hassle of sourcing individual ingredients.
Tips for Incorporating Frozen Food Essentials
Meal Planning
To make the most of frozen food essentials, it's helpful to incorporate them into your meal planning. Take inventory of your freezer regularly and plan your meals around the frozen ingredients you have on hand. This will not only save time but also help prevent food waste.
Proper Storage
To maintain the quality and taste of frozen food essentials, it's crucial to store them properly. Keep your freezer at the recommended temperature and ensure that frozen food packages are tightly sealed. Use transparent containers or label bags with the contents and date to keep track of what you have.
Balanced Nutrition
While frozen food essentials offer convenience, it's important to maintain a balanced diet. Pair frozen fruits and vegetables with lean proteins and whole grains for a well-rounded meal. Read the nutrition labels on pre-prepared meals to ensure they align with your dietary goals.
Conclusion
Frozen food essentials provide a valuable solution for quick and convenient meal preparation. With their numerous benefits, including convenience, extended shelf life, nutritional value, and versatility, frozen food essentials have become a staple in many households. By incorporating frozen fruits, vegetables, proteins, and pre-prepared meals into your meal planning, you can create delicious and nutritious dishes in no time. Embrace the world of frozen food essentials, and unlock a world of quick meal possibilities.
Check more Food tips here: Food Tips