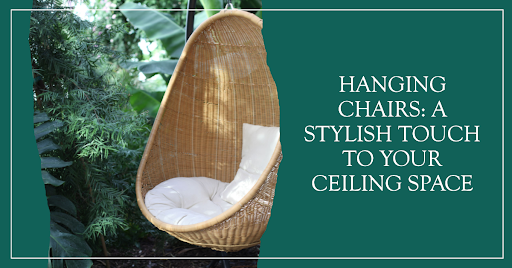 Hanging chairs have transformed from traditional outdoor seating options into stylish and trendy additions to indoor spaces. They go beyond being mere furniture- they make a statement in interior design.
Over the years, there has been a significant increase in the usage of hanging chairs in homes and workplaces. Due to such high demand, numerous brands offer hanging chairs with multiple shapes, sizes, colors, and style options.  So, if you want to know more about hanging chairs, keep reading. 
This article takes a deeper look at hanging chairs, exploring their history, various types, benefits, and ways to incorporate them into your interior design. Discover how these unique furnishings can turn your ceiling space into a functional and fashionable haven.
The Evolution of Hanging Chairs
The historical origins of hanging chairs can be traced back to the centuries. 
These chairs have a rich and captivating history, initially used by indigenous cultures for relaxation and meditation. Over time, they have surpassed cultural boundaries, proving their timeless appeal. 
Crafted from natural materials like rattan and woven fibers, these chairs beautifully exemplify their organic roots.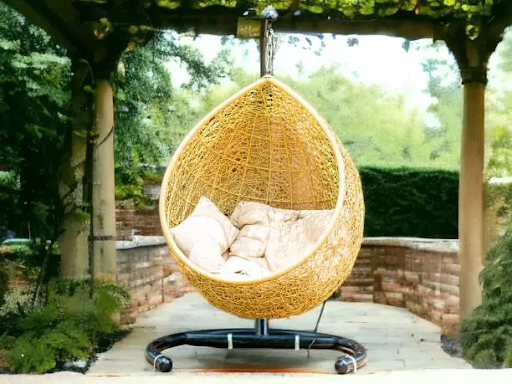 Today, hanging chairs from the ceiling have undergone a resurgence in interior design. Their modern designs and versatile materials have made them an increasingly popular choice for homeowners and interior decorators alike. This renewed interest has sparked a diverse range of styles and materials, making it easier than ever to discover the perfect hanging chair that complements your unique taste and fits seamlessly into your living space.  
Hanging chairs possess remarkable versatility, effortlessly blending into a multitude of living spaces. 
Whether it's the cozy confines of a living room or bedroom or the enchanting outdoors of patios and gardens, these chairs have the power to elevate any area's ambiance, infusing it with both style and comfort.
Types of Hanging Chairs
Hammock-style hanging chairs:
Hammock-style hanging chairs have been crafted to offer the ultimate relaxation experience. With their soft, suspended seats that gently cradle you in comfort, these chairs are ideal for indulging in reading, napping, or simply unwinding.
Swing-style hanging chairs:
Swing-style hanging chairs evoke a sense of nostalgia, reminiscent of joyful childhood playtime. These charming chairs come in various designs, including open swings and cozy enclosed cocoons. Adding swing chairs to your space can infuse it with an element of whimsy and fun.
Egg-shaped hanging chairs:
Egg-shaped hanging chairs
are famous for their distinctive design, resembling cozy cocoons. They offer a sense of privacy and tranquillity, making them perfect for creating inviting nooks and peaceful meditation spaces. Additionally, the curved shape brings a touch of modern elegance to your decor.
Pod-style hanging chairs:
Pod-style hanging chairs resemble egg-shaped ones but offer a more spacious and open feel. These chairs make great focal points in large rooms, providing a unique seating experience.
Benefits of Hanging Chairs
1. Space-Saving Solutions
Hanging chairs are clever space-saving solutions, making them a valuable addition to small homes or apartments. Unlike traditional furniture that takes up floor space, hanging chairs are suspended from the ceiling. This innovative approach optimizes vertical space utilization, keeping your floor clutter-free and open for other furnishings or activities.
Hanging chairs provide a luxurious seating option in tight living quarters, like studio apartments or cozy reading nooks. They offer the comfort of sitting without compromising on space. This space-saving feature extends to outdoor areas as well. For compact balconies or patio spaces, hanging chairs can be a game-changer, transforming limited square footage into a relaxing oasis.
2. Stylish and Unique Aesthetic Appeal
Hanging chairs possess a remarkable quality to enhance the visual appeal of any room. They make bold design statements, infusing a sense of whimsy and personality into your interior decor. These unique chairs effortlessly catch the eye and serve as captivating focal points, igniting conversations while adding an artistic touch.
3. Comfort and relaxation
Hanging chairs embody comfort and relaxation, thanks to their ergonomic designs and suspended seating arrangements. 
Crafted with the human form in mind, these chairs often feature cushioned seats and ample back support. Whether one seeks solace in a captivating novel, indulges in a restful slumber, or savors the gentle sway induced by the chair's suspension, hanging chairs promise a sanctuary of tranquillity.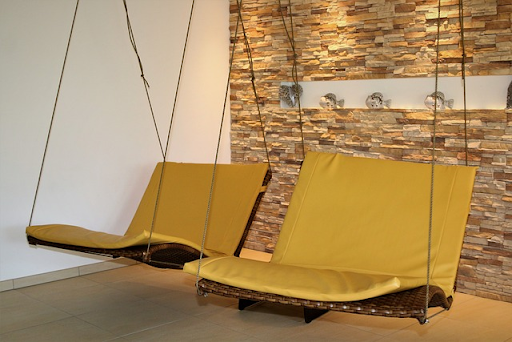 The suggested seating position of hanging chairs has many benefits. By evenly distributing weight, it reduces pressure on the spine and muscles. This ergonomic advantage makes them an excellent choice for individuals seeking relief from back pain or simply desiring a comfortable, stress-relieving seating option.  
 Incorporating Hanging Chairs into Your Interior Design
1. Choose The Right Location And Room 
Selecting the right room and its ideal location are pivotal considerations. It is essential to consider various factors, including the chair's dimensions, ceiling height, and the space's intended purpose.
2. Complement Existing Decor And Color Schemes
To seamlessly integrate your hanging chair into your existing decor, carefully select colors, patterns, and materials that harmonize with the overall design scheme of the room. This will ensure a cohesive and visually appealing arrangement.
3. Accessories and cushions for added comfort
To make your hanging chair truly unique, add cushions, throws, and accessories that enhance both its comfort and style. Get creative with different combinations to transform your space into a warm and inviting oasis.   
Conclusion
Hanging chairs have emerged as more than just trendy pieces of furniture. They now symbolize comfort, style, and versatility in modern interior design. By delving into their history, understanding the benefits, and learning how to incorporate them into your living spaces seamlessly, you can elevate your ceiling space and create a haven of relaxation and style. 
Whether you opt for a ready-made hanging chair or embark on an engaging DIY project, the undeniable allure of these unique furnishings makes them a crucial consideration for any home. Embrace the art of hanging chairs and witness your interior design soar to new heights.