We know what you're thinking:
Isn't every coffee maker precisely that – an appliance you use to make coffee?
Well, yes, but have you ever thought about the many different types available on the market?
Deciding on what coffee maker is the best – and we're not just talking about specific models here, but the method of brewing they utilize, too – becomes hard as soon as you realize how many options you have.
That's why today we're taking our usual coffee talk to the next level – read on to see what it's all about.
Coffee Makers 101: Different Types Of Coffee Makers
Let's take a look at the main types of coffee makers, their benefits, as well as disadvantages. Hopefully, by the end of this article, you'll have an idea what coffee maker is the best for your particular needs. Hint: It's not a Nespresso Evoluo, but it does come pretty close.

Drip Coffee Makers
A coffee enthusiast or not, chances are you've used one of these before – either at home or work. Drip brewers seem to be everywhere and are, in fact, one of the most common coffee makers around the globe.
Why?
Well, the reasons behind it are pretty simple ones – they are inexpensive, easy to use, and they can brew up to 12 cups of coffee at once. For a household with more than one coffee drinker, these are probably the best possible solution – and you can only imagine how handy it is to have one of these in the office.
Best For: Large households with several coffee drinkers, as well as workplaces will benefit hugely from having an appliance able to brew up to 12 cups at a time. Also, if you don't mind drinking filter coffee, and you're looking for an inexpensive brewer, a drip coffee maker should be more than enough to provide you with your daily fix of caffeine.
While there are many advantages to using a drip brewer, there's one disadvantage that we need to address, too. Here's the thing: you can't expect freshly brewed coffee each time you reach for the pot. It's just not possible – more often than not, you'll drink stale, possibly semi-cold coffee.
Single Serve Brewer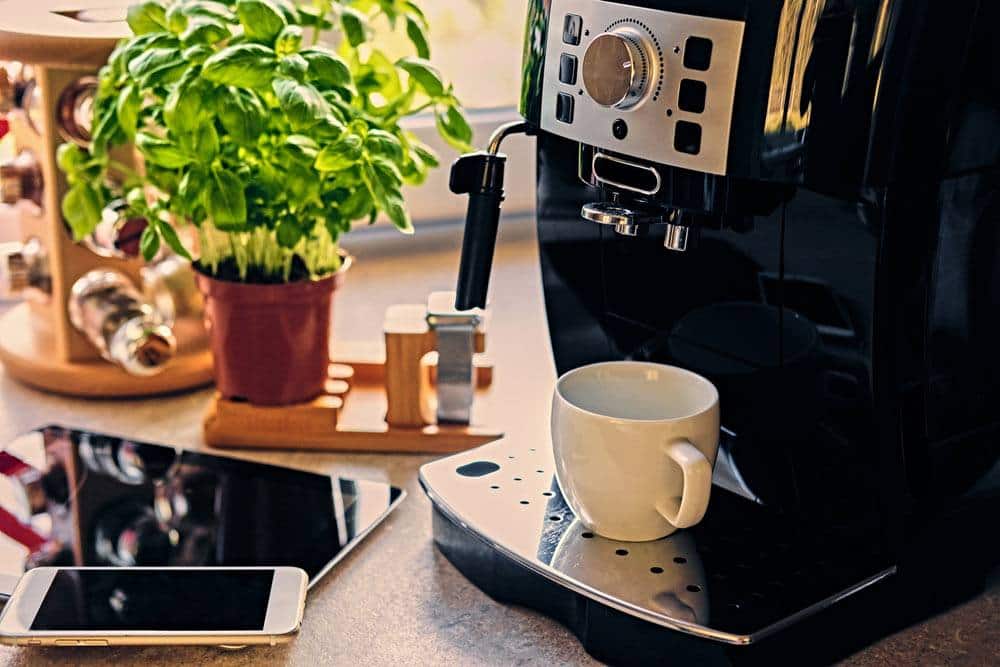 As we said previously, the main issue with the standard, drip coffee maker is that they're only capable of making copious amounts of coffee at once. If you're the only one in your family who drinks coffee, or you live on your own, making that much coffee is just plain wasteful.
That's why a lot of single coffee drinkers rejoiced when one-cup coffee makers entered the market. Their name pretty much says it all – they're supposed to provide one cup of coffee, made precisely when and how you want it. This is in no way an overstatement – with the right coffee pods (or ground coffee) and a push of a button or two, you'll have a cup brewed in a minute or so.
We already reviewed some of my favorite single-serve coffee makers, and we suggest you check out the Keurig K55 – a choice of many coffee drinkers around the world.
Best For: Those of you that live alone and want to stop wasting coffee will love the single-serve coffee maker concept. Oh, and let's not forget how much money you'll save once you put a stop to your daily visits to the local coffee shop – you'll be glad to learn that a one-cup brewer is capable of making you a cup of your favorite coffee but at a fraction of the price.
Keep one thing in mind, though – if you find yourself in a situation that requires you to make a substantial amount of coffee (family gatherings or having friends over are good examples), prepare yourself for the painstaking (not to mention time-consuming) process of brewing each cup separately.
French Press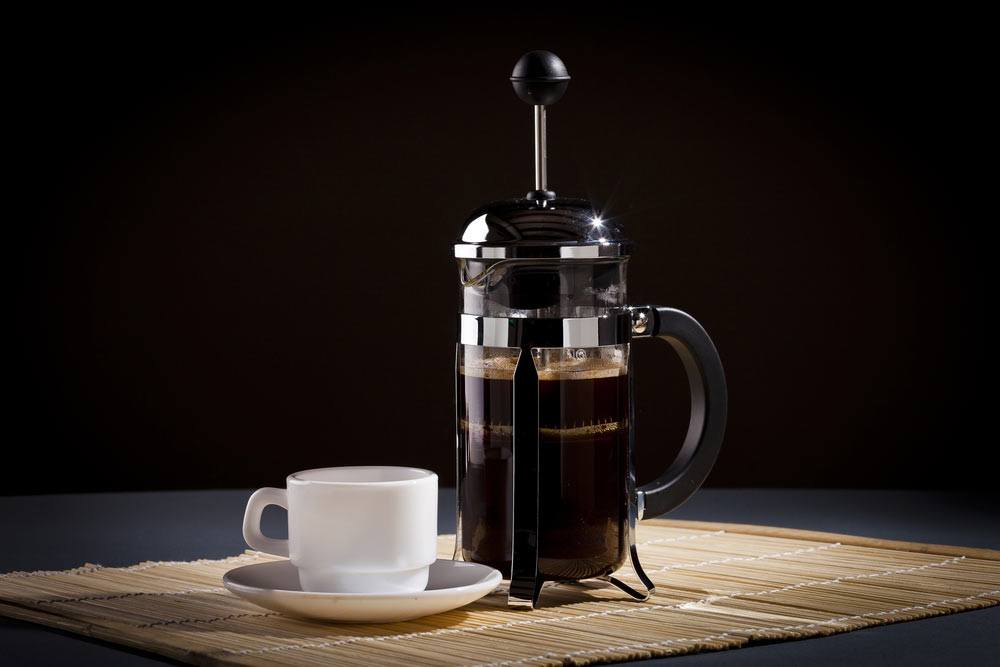 Also known as the coffee press or a press pot, the French press is a type of coffee maker loved by many coffee enthusiasts all over the world. These have been around since the 1850s, and they're still equally as successful, which, I think, says a lot about their overall performance. Bringing together a beautiful, glass design of the press pot with one of the oldest forms of coffee making is what the French presses are all about.
Yes, it's a manual coffee maker, and it does take some time and practice to get it right, but if you want a cup of freshly brewed, rich, high-quality coffee, we recommend getting a French press.
Best For: A considerable portion of adults drink coffee on a daily basis, but what sets a French press user apart from an average coffee drinker is that they enjoy a richer, fuller flavor. If you're the type that doesn't drink coffee solely for the caffeine in it but appreciates the taste, too, you should consider getting a French press – connoisseurs around the world agree it will be the most exceptional coffee you've ever tasted.
It's strange how something as simple and old-fashioned as a French press can beat pretty much every expensive, technologically advanced version of coffee makers. We'll let you in on a little secret: just because an automatic coffee maker offers plenty of options and makes a cup of coffee in a matter of minutes, that doesn't mean it makes better coffee, too. In our experience, they only make the coffee brewing process more convenient – the coffee, however, ends up being okay, at best.
Pour-Over Coffee Maker
Attention, coffee enthusiasts!
If there's ever been a coffee maker made entirely with you in mind, then it's the pour-over one. The idea behind it is rather straightforward – you insert a paper filter into the vessel, add coffee grounds, and pour hot water over them. We know the process sounds too simple to ever result in a delicious cup of coffee everyone praises so much – after all, isn't that what all automatic coffee makers are made to do?
Well, yes, and no.
There are probably easier ways to make your coffee, but what sets pour-over coffee makers apart from the competition is the authentic hands-on approach and the control you have over the process. You decide on the water's temperature, you pick the coffee grounds, and once you get your technique right, we promise it will entirely change your coffee drinking experience.
Best For: For all those coffee snobs out there – and we mean that in the best possible way. If you're pretty specific about how you like your coffee, and you enjoy the hands-on approach this type of coffee maker offers, then a pour-over coffee maker might just be the best thing that happened to you – and your morning cup of coffee.
Coffee Percolators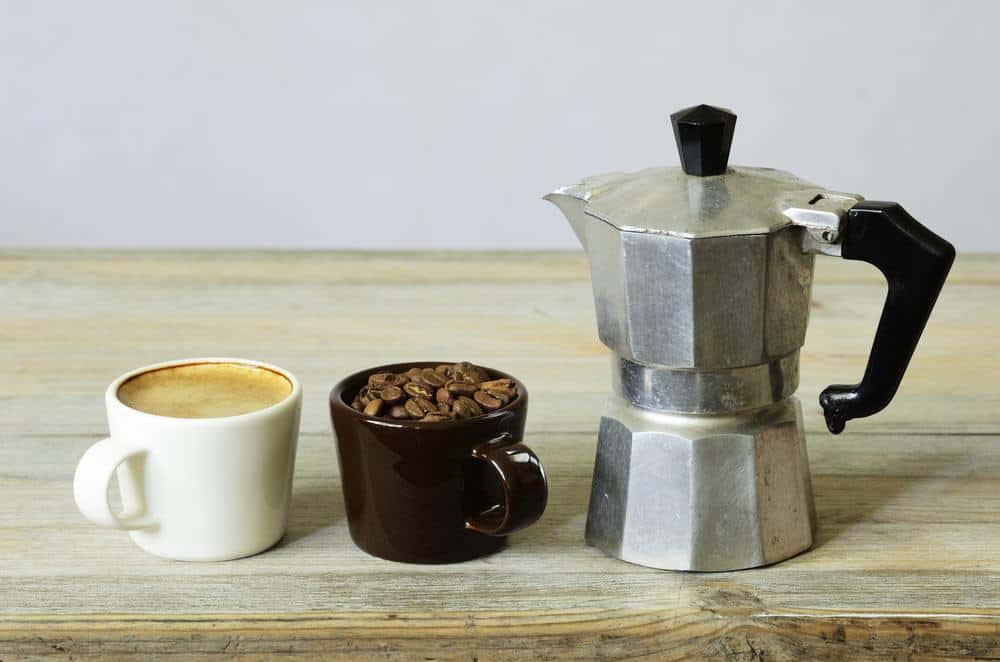 The discussion whether or not percolators are the right way to make coffee has been around for years, but we feel the need to include them on my list, nonetheless.
Here's how the debate goes: the so-called purists think of percolators as one of the best ways to ruin perfectly good coffee grounds. Fans, on the other hand, continue to dismiss any objections, saying that no other coffee maker on the market can make coffee as rich and robust as a percolator can.
What seems to be the issue?
Well, to better understand the debate that's been going for too long, all you need to know is that it's the way coffee is brewed that seems to bother everyone. Since boiling water continuously goes over the coffee grounds and back into the water chamber, it inevitably leads to brewed coffee recirculation, as well, resulting in over-extraction.
Best For: Those coffee drinkers that don't care what kind of coffee they're drinking – as long as it is, in fact, coffee, will probably find a coffee percolator to be useful. If a drip brewer is still out of your price range (despite being relatively affordable), get yourself a coffee percolator.
We're going to break it down for you:
Are they convenient? They most certainly are.
But do they make great coffee? We're not so sure they do.
Final Verdict
So, what coffee maker is the best?
It seems like the answer depends on what your coffee drinking habits are – do you need a full pot every morning or is just a cup of freshly brewed, hot coffee all you need?
Of course, each of the coffee makers we talked about has its benefits, and each of these has its dedicated buyers, which means we shouldn't be the ones to give the final verdict – you should do it, instead.
Let us hear your thoughts on the topic – what type of coffee makers is the best, in your opinion?
Leave a comment below and share the article with your coffee loving friends.