Dragon fruit, similar to a one-of-its-kind name, has a distinctive taste and has become extensively well-known over the past few years. The reason behind its popularity is the tropical vibes that it gives while eating it. To make yourself completely lost in those vibes, practice mindful eating and enjoy every bite of it like never before. Thank me later! Dragon fruit is becoming people's top choice as a dessert staple. And if you're here, I can say for sure you are also one of them. I will provide you with delicious dessert recipes that will be a treat for your taste buds. So a blend of numerous nutrients together gives rise to a "Dragon Fruit". Besides being yummy, it has numerous health benefits that shouldn't be ignored.
Here are 5 sweet treats you can whip up with some dragon fruit
No-bake vegan dessert: Earl Grey and Blueberry Tart 
What else do you want if you get a dessert that is a package of these four qualities; delightful color, incredible taste, simple to make, and accommodating dietary restrictions? I am sure you will love it if you are a die-hard fan of tarts and pies. The recipe has two significant steps i.e. preparing crust and then a filling.
Step 1: How to prepare a crust 
Take a bowl filled with almonds and blend them in a processor until you obtain the bread crumbs-like consistency. After this, you have to add the remaining ingredients including dates, shredded coconut, a pinch of salt, and coconut oil (if it's needed). Make sure the mixture you obtain is sticky or else add coconut oil as per requirement to obtain the desired consistency.
Step 2: Shaping the prepared crust 
It is one of the easiest steps as you only need to press the blended mixture against the tart pan with the help of a glass or spatula. Keep the tart pan in the refrigerator to cool up the crust and move on to the next step.
Image source: https://www.pinterest.com/pin/416301559314204824/
Step 3: it's time to prepare filling 
You need to have coconut cream (full fat), Blue Berries, Earl Grey Tea, Corn starch, Vanilla essence, Maple syrup, and agar-agar powder. First of all, pour the coconut cream into the pan and continue to whisk it up on medium to low flame until it gets creamy and smooth. Here comes the turn of other ingredients. Grab an appropriate amount of blueberries, and Earl Grey tea and add them to the saucepan. Now extract enough juice out of blueberries by squeezing them. This will give an amazing color to the tart. Don't turn off the flame until the consistency is thick and remember to stir the mixture continuously. Remove lumps from the mixture by pouring it through the sieve into the bowl. Let all the steam go away and then ladle the filling on top of the crust. Again, refrigerate it to let the filling get firm.
Image source:  https://www.pinterest.com/pin/383720830756583732/
Step 4: Decorate the way you like
You can use a handful of blueberries, dragon fruit, coconut (shredded), and whatever fruits you like. Now enjoy with the scoop of your favorite ice cream flavor.
Note: You might get confused initially about how to cut dragon fruits but there is nothing to be stressed about. They are as easy to cut as other fruits. Place the dragon fruit on some surface like your kitchen slap and vertically cut it down in half. You should have a strong grip on the fruit. Now you can either remove the skin or scoop the inner part out.
Image source: https://www.pinterest.com/pin/436919601354662232/
Ice cream made with coconut milk and dragon fruit
Impress your child with the homemade bright pink ice cream prepared out of combining the full-fat coconut cream a cup of frozen dragon fruit, and one-third cup of sugar.  Now pour the mixture in the ice cream maker machine and let it swirl to obtain a delicious frozen treat. To make it more attractive for children, add colorful sprinkles or some chocolate syrup on the top. The best thing about it is that it does not require much effort.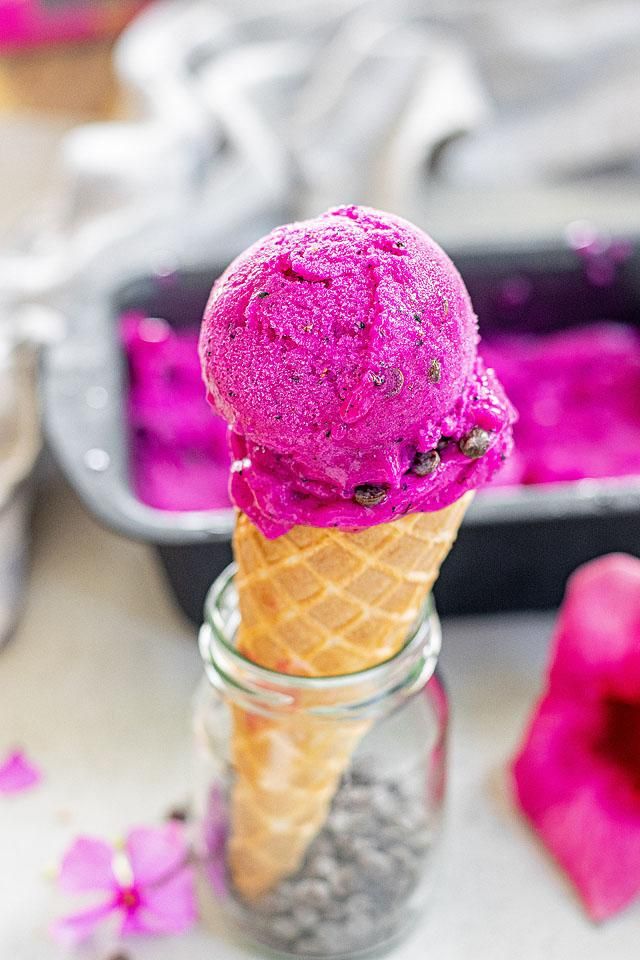 Image source: https://i.pinimg.com/736x/39/02/50/39025062c6d653b426359b643b6d0474.jpg
Cake Dessert layered with dragon fruit
It's a three-layered cake consisting of dragon fruit mousse in pink, dragon fruit jelly in pink, and a fruity sponge.
Step 1: Make a sponge
In a bowl add all the dry ingredients and combine them properly:
One-third cup of buckwheat flour

One-third cup of shredded coconut

A three-fourth teaspoon of baking powder

Half a teaspoon of baking soda

Pink dragon food powder

Now add wet ingredients and combine them properly except Three tablespoons of aquafaba:

One-fourth cup of coconut cream

One-fourth to half a cup of maple syrup

One-fourth cup of beetroot juice 
Now take 3 tablespoons of aquafaba and whisk it in a bowl with the help of a fork. You need to do it for around 30 seconds and then add it to the bowl that contains the mixture. Grab a pan in which you bake the cake and pour the mixture in it. Bake it for around 20 minutes in a 180-degree preheated oven. Insert a skewer to know whether it is cooked or not. Once properly cooked, carefully extract the sponge out of the tin on the cake stand to let it cool. Remove the topmost layer that is hard.
Step 2: prepare Raspberry chia jam 
Add in the bowl one-fourth cup of Raspberries, one tablespoon of chai seeds, and one tablespoon of maple syrup. Mash blueberries properly along with other ingredients and pour them on the top of the sponge.
Step 3: prepare the mousse 
Ingredients required are:
Three cups of overnight water-soaked cashews

Three-fourth cup of thick coconut cream

Three tablespoons of maple syrup

One tablespoon of pink dragon fruit powder

Half a tablespoon of agar-agar powder
Add in bowl cashews after draining the water, thick coconut cream, maple syrup, and dragon fruit powder. Blend it until it turns into a smooth mixture. In the saucepan, pour another half cup of cream and add agar-agar powder. Bring it boil and blend it until the ingredients are well combined. On the top of the Raspberry chia jam layer, you'll have a mousse layer now. Again, put the two-layered cake in the refrigerator for 30 minutes to cool it down.
Step 4: prepare jelly layer 
Ingredients required:
One teaspoon of agar powder

Three tablespoons of maple syrup

One tablespoon of pink dragon fruit powder
Before you begin making jelly, check whether the mousse layer is firm or not. If it is, start making a jelly. The process is simple. You have got to add agar-agar powder and a cup of water in a saucepan. Now bring it to simmer and turn off the flame. Once removed from the stove, add maple syrup and pink dragon fruit powder. Add it as a third layer of the cake and leave it in the refrigerator until it's set enough to eat. It's up to you if you want to decorate it with your favorite fruits or in any other way.
Image source: https://www.pinterest.com/pin/703124560548832014/
Soft white cake wrapped in dragon fruit buttercream 
Its image is already giving you chills and is mouth-watering. Just imagine what it will be like while playing around with ingredients and taking bites of this dreamy delight
Step 1: prepare the sponge
First of all, preheat the oven to the required temperature which is 350°F, and prepare the pan.
Add all the dry ingredients to the bowl and stir them properly to make sure there are no clumps. Set this mixture aside until another one is made. The following ingredients are:
Two cups of flour

Three and a half teaspoons of baking powder

1 teaspoon of salt
Grab another bowl and add half a cup of butter to it. Use a beater to mix it properly until becomes like a thick cream. It's time to beat a half cup of sugar and three teaspoons of Vanilla extract added in the bowl in the creamed butter.
Mix the dry and wet ingredients via a beater slowly. Repeat this process after pouring in one cup of milk. Take 4 eggs and separate egg whites and yolks. Add the egg whites to the mixture and again beat it slowly via a beater. It is completely okay if the resulting mixture isn't as smooth as expected. But be careful that you mix it not more than two minutes on low. Take three cake pans to divide the mixture and bake keep them in the oven for around 30 minutes. Insert the skewer to check if the sponge is ready or not.
Step 2: Time to prepare delicious frosting
Mix Dragon fruit and granulated sugar in a saucepan. Over medium heat, cook while stirring occasionally to avoid forming lumps until they boil. Continue to boil for around 5 to 7 minutes, or until it becomes thick and syrupy. Turn off the, set it aside, and let it cool completely. Place the mixture in the refrigerator to help speed up the process.
After cooling down the dragon fruit mixture, whip the one-and-a-half cup of butter until it's soft and fluffy. A pinch of salt, two teaspoons of vanilla extract, and a two-cup amount of powdered sugar are also added. Beat until fully incorporated. 
Beat in one cup of dragon fruit puree after introducing it. To reach the appropriate consistency, add two remaining cups of granulated sugar gradually. 
Step 3: Assemble everything together
Cover each layer with flavorsome white frosting and completely wrap the cake after the third layer. Let me tell you how you can further make it inviting. Cut papaya into slices and decorate the top layer with it. There is no restriction at all. If you want, you can go with fruits like pomegranates, berries, cherries, and others you like.  
Image source: https://www.pinterest.com/pin/233553930668320490/
The ideal fruit salad 
This colorful fruit salad is perfect to bring to a summertime gathering or is appropriate to enjoy as an evening snack.
Ingredients required:
One small watermelon and remove all its seeds

One pound strawberries

12 ounces of blueberries

One dragon fruit
Let's do it together
Wash and dry all the fruits and vegetables. 

Cut watermelon into half

Give start shape via star cookie cutter to watermelon slices

Grab strawberries and remove the useless upper part before 
One small watermelon and remove all its seeds

One pound strawberries being cut into four equal parts

Vertically cut the dragon fruit into two halves 

Scoop the juicy flesh from the dragon fruit with the help of a sizable spoon and make chunks out of it. 

Now it's time to combine them together and eat them once it is chilled.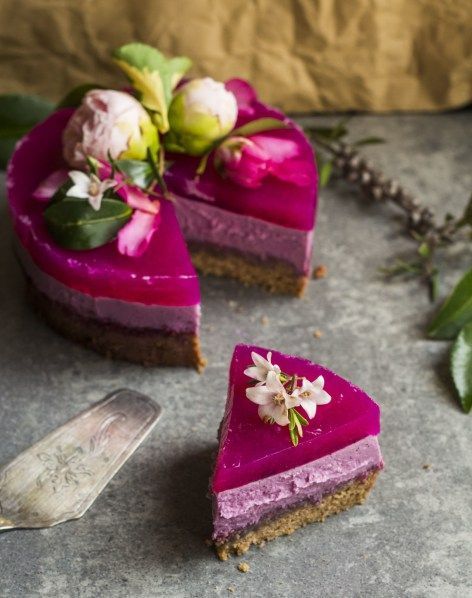 Image source: https://www.downredbuddrive.com/wp-content/uploads/2017/05/patriotic-fruit-salad-UPDATED-post.png
Conclusion 
It has become very clear that dragon fruit isn't an ordinary food now. The reason behind its popularity is not just its health benefits but versatility. Five amazing recipes that we have given including cakes, fruit salad, tart, and ice cream will leave you amazed. The thing that makes these dishes more delightful is vibrant colors including pink and purple that will make you love them even more. So let the magic begin and surprise everyone with these finder-licking sweet treats!
Meta Description 
Dragon fruit can be used in a variety of ways to create some mouth-watering desserts that will make you not just love this fruit but your baking skills as well.