Have you bought or caught a sea bream and don't know how to cook it?
Then, you're in for a treat as I teach you several bream recipes that you can try at home. If you like sea bass, then you'll definitely love bream it has the same texture, some say even better.
My knowledge about fish is only limited so when someone brought me a sea bream, I was bewildered on how to prepare it. That situation inspired me to search for some recipes involving bream. To help those with the same dilemma, I'm going to share below on what I discovered so far.
What Is A Bream?
There are many species in the sea and one of them is the bream, which is a generic term referring to freshwater and marine fish species.
The two most common species of bream are the white bream and carp bream. The latter is slightly bigger of the two, but both fishes have a notable flat body, small head, and a short fin.
Just like the sea bass, bream has a buttery texture. The flavor is somewhat mild and subtle which is perfect for baking, baking, and grilling. In stores, they're often sold as fillets or whole.
Pan-Fried Bream Recipes
Delicious doesn't begin to describe how great bream is when pan fried to crispness. You can fry this fish in fillet or whole. Check out these two pan-fried recipes.
Recipe 1- Crispy Pan-Fried Bream Fillet
Ingredients:
2 whole sea bream
1/2 cup flour
1/4 cup soup powder (preferably beef flavor)
2 beaten eggs
1 teaspoon salt
Vegetable oil for frying
To begin, fillet the fish by cutting through the flesh as close to the bone using a sharp knife. Watch how to fillet bream in this video.
[su_youtube url="https://youtu.be/m5r_sSqTc84″]
In a plate, mix the flour with soup powder and salt. In another plate, pour the beaten eggs. Now, get ready to coat the fish with the flour mixture and beaten eggs.
After all the fish are coated well, heat oil in a skillet under medium-high heat. Next, fry the fish until crispy at both sides. Avoid turning the fish more than two times because they'll fall apart.
When your fish are golden brown and crispy, transfer them in a plate covered with greaseproof paper to absorb any excess oil. Serve and enjoy.
Recipe 2- Pan-Fried Whole Bream
Ingredients:
3 whole sea bream
1 cup yellow cornmeal
1 tablespoon black pepper
1 teaspoon salt
1 teaspoon paprika
Cooking oil for frying
First, clean the fish by taking out the organs and scraping the scales. You may remove the head if you like. Then rinse your fish in cold running water. Set aside.
Watch how to clean a bream in this video.
[su_youtube url="https://youtu.be/Od2LYbr_agE"]
In a shallow bowl, combine cornmeal with black pepper, paprika, and salt. Now it's time to fry. In a pan or skillet, heat the cooking oil. Before you add the fish into the pan, coat it first with the seasoned cornmeal and fry for about two minutes or so.
When the fish is golden brown, transfer it to a plate with paper towels to absorb the oil. Serve with lemon wedges if desired and enjoy.
Grilled Bream Recipe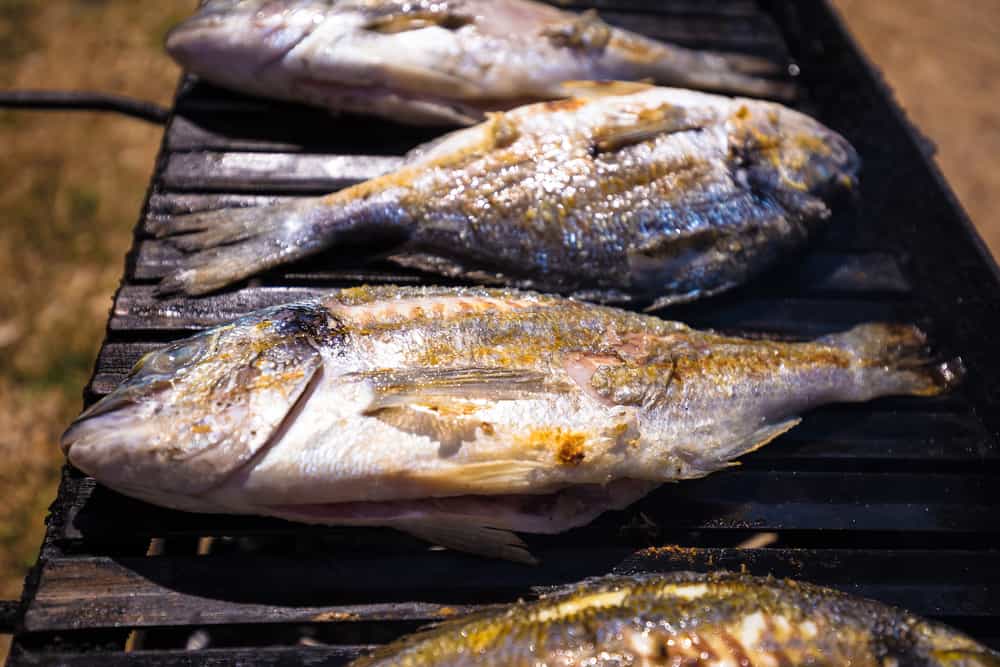 The best way to enjoy the buttery texture of bream is to grill them. You can grill it in a grilling basket or without. Here are the ingredients.
Bullet Poin
Olive oil
Nonstick spray
After you have cleaned your bream, pat it dry with paper towels. To allow the flesh to absorb all the seasonings, make some slashes on each side of the body.
Next, drizzle it with some olive oil to keep it from sticking into the grill, then cover it with the seasonings of your choice.
Heat the grill on medium-high heat. If you're using a grilling basket, apply its interior with some nonstick spray. If you like to go without the grilling basket, place the seasoned fish in the barbecue grill.
Watch how to grill the fish on the barbecue in this.
[su_youtube url="https://youtu.be/j_Gm71TH_OY"]
Cook the fish until the flesh is beginning to turn opaque and the skin faintly charred. Small bream which weighs less than one pound may need 3-4 minutes cooking time per side. Larger bream may need 7-8 minutes each side.
Try Some Bream Today!
Bream is a favorite fish by many because it can be cooked in several ways, like frying, baking, and grilling.
My favorite bream recipes are frying and grilling because it where the buttery texture stand out. Before you cook, make sure that you remove the organs and scrape the scales.
If you've tried cooking and eating bream, share with us your experiences and thoughts in the comments section below. Don't forget to share this article if you like it.