Counter Depth Vs Standard Depth
You might be looking for a refrigerator for your kitchen but cannot decide which one you should buy between Counter Depth vs Standard Refrigerator. Whenever you think of buying a refrigerator, you need to think about the space in your kitchen. Depending on the area of your kitchen, your needs, aesthetics, and storage you need,  you should choose a refrigerator.
Usually, now two types of refrigerators are popular: counter depth refrigerators and standard depth refrigerators. Refrigerators offer various features that customers can choose from, including door configurations, solid outlook, and built-in technology like touch screens to allow you to follow your favorite cooking shows.
Custom fridge magnets are a great way to brighten up your kitchen. With custom magnets, you can also get creative and use it in multiple places, including your office and car. It's easy to make custom magnets that showcase your favorite memories. More exciting than pictures or prints, photo tiles allow you to showcase graduations, weddings, family Christmas photos, and more. Custom magnets are a great photo gift for any occasion. From housewarming parties to promotional gifts, your recipients will appreciate it when you make their own magnets for them. Get creative and add a unique message to your refrigerator magnet, which can also be given as a gift to family and friends.
A comparative discussion of counter-depth and standard refrigerators with all kinds of surroundings, such as volume, style, storage, capacity, etc., is discussed here. Here you will find a perfect idea about both types of refrigerators, which will help you choose the right refrigerator for your needs.
Counter Depth Refrigerator
Usually, counter-depth fridges are around 24-30 inches deep. Counter-depth fridges are shallower than a standard size fridge, and it offers a seamless configuration between your kitchen cabinets without having to remodel. Depending on your kitchen area, you can try the 30 Inch Refrigerator counter depth.
Counter-depth refrigerators offer a smooth design and custom look that resembles a professionally installed built-in model but at a reasonable price. It is very effective for smaller apartments and condos or narrow galley kitchens.
A counter-depth refrigerator can provide your kitchen with a built-in look with an integration that's nearly flush with your cabinetry and countertops. Counter-depth refrigerators have many styles, including French door and side-by-side models. The refrigerator's doors will often protrude sufficiently to be easy to open and not rub against adjacent counter-depth refrigerators.
The standard depth refrigerators offer 30 Inch Refrigerators to 34. Usually, those refrigerants provide relatively larger space than 24-30 inches counter-depth refrigerators. Standard depth refrigerators are for those with enough space in their kitchen.
The extra depth also means your fridge will protrude from surrounding countertops and cabinetry, which can make an eyesore in kitchens. 
Since standard-depth refrigerators are more famous, you'll also find a more fabulous selection of colors and styles as you want. This means you likely will not need to wait for the model you want to buy. Having the various types of models with stylish design and colors and standard-depth refrigerators help you to enjoy your newly-designed kitchen more quickly.
Pros and Cons
In general, before buying any type of Home Alliance, it is very important to know the details about it as well as some more information. Pros & Cons contains all the products, and you will get an accurate idea about which one to buy.
Counter-Depth Refrigerators: Pros and Cons
Might you be thinking about buying counter-depth refrigerators? That's why you need to know some positive and negative sides of this type of fridge.
Pros
The standard size fits into a small area kitchen.
More room inside.
Built-in look.
Enough height.
Big trays and platters.
Gorgeous outlook.
Possible to reach back of the refrigerators for buried items.
Cons
The pricing cost is high.
Storage and capacity are relatively low.
Standard Depth Refrigerators: Pros and Cons
If you want to buy a 30 Inch Refrigerator of standard depth type refrigerator or any size or style, then first know the pros and cons of this type of refrigerator in one word.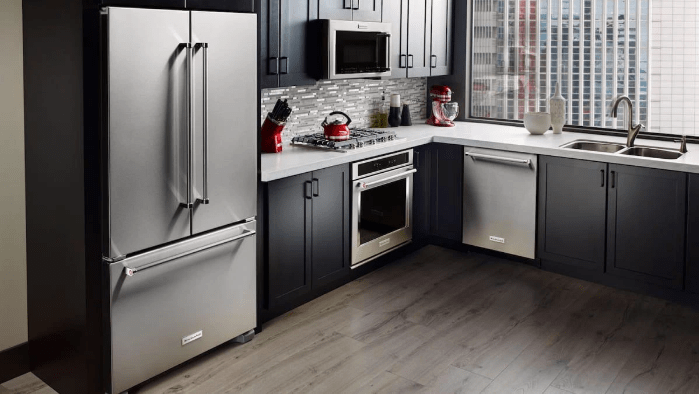 Pros
The pricing is reasonable.
Available models and colors.
Storage Capacity is larger.
Cons
Big size fridge, need more space in the kitchen.
Cabinets are separate from juts.
Disturb workflow.
Some Notable Differences Between The Counter Depth and Standard Refrigerators
The most notable difference between counter depth vs. standard depth refrigerators is the depth dimension. Counter-depth refrigerators fit nearly flush with your cabinetry but are smaller in depth.
On the other side, standard-size refrigerators provide a larger width. As you want to shop 30 Inch Refrigerators for your kitchen, you can quickly get stylish 30-inch refrigerators in standard depth with a variety of colors. 
Both types of refrigerators offer a number of valuable features to help keep your food cold and fresh. Those refrigerators also recently introduced new water filtration system options, with different style finishes and sought-after configurations.
You will get either fridge model in the four most popular styles: French door, side-by-side, top-freezer, or bottom-freezer. If you do not have larger space in your kitchen, you can also find top- or bottom-freezer refrigerators, including a narrower width and depth, to help better utilize the limited space you have. 
With so many updated designs to choose from, you're destined to find the ideal fridge type for your new kitchen. If you need a quick refresher in the case of a refrigerator, let's break down some of these fridge types.
Choose Your Favorite One
A refrigerator is an essential appliance in the kitchen. So it's an important choice to make in your kitchen space's overall design and workflow. Counter-depth refrigerators offer a clean, advanced look that can even be accessorized with front side panels to coequal with the cabinets.
And standard depths are a more affordable option with numerous models and colors, allowing more internal capacity to keep stored food and drinks. If you have enough free place in your kitchen or are building a home or remodeling a kitchen, make this choice before setting countertops and cabinets. You can customize your refrigerator's space to fit its size perfectly, allowing you to integrate it into your kitchen fully. Click here to read more.
Read more:
Mini Food Processor Vs Food Chopper: Which Is The Best Choice?
6 Essential Tips To Help You Cook Better
Further Watching:
Conclusion On Counter Depth Vs Standard Depth
Counter-depth and standard refrigerators, both refrigerators we discussed in detail above, from which some things are pretty straightforward. The door design of the above two refrigerators, internal structures, and many other things are similar.
But the main difference between the two refrigerators is the capacity, storage, and price. Hopefully, the above items will help you buy the fridge of your choice.