Breakfast is the most important meal of the day. We bet you have heard this saying a million times and there is a good reason for that it is absolutely true! Another great thing about breakfast is that it can be packed with calories as you have a whole day ahead of you to burn them. Therefore, it is perfectly fine to sin early in the morning- at least when it comes to food!
We have a perfect suggestion for all of you that agree with this theory of ours- Mexican breakfast burritos. They have a lot of calories (and we mean A LOT!), but taste divine and are therefore sure to give you a lot of energy and put a smile on your face too! What more could you possibly wish out of your breakfast?!
So, when you wake up early in the morning with a feeling of hunger that breakfast cereals cannot possibly satisfy, come back to our article and prepare our Mexican breakfast burrito recipes! These Mexican babes are sure to fill you up with tons of flavors!
Make The Authentic Mexican Corn Tortillas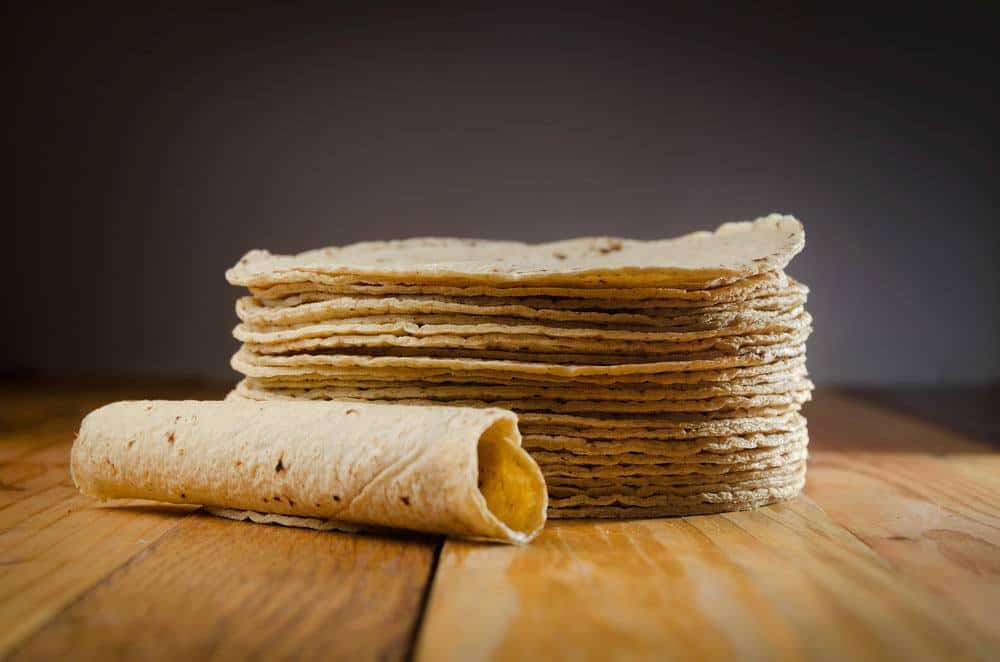 In order to make Mexican breakfast burritos, you will need to use the authentic Mexican tortillas, especially if you want the complete experience. We know that it is much easier to buy tortillas at your local store and that they are quite easy to find no matter where you live, but the ones you can buy at your store will never taste like the ones that real Mexican housewives make every day.
Besides, homemade tortillas will be easy to make and much more healthy to eat. As Mexican tortillas are quite versatile, once you make them, you can use them for various Mexican dishes such as a quesadilla, taco, entomatadas, and burritos of course. They are great to eat on their own too. Simply bake them in the oven for fifteen minutes and serve them with some dip.
However, there is one minor issue-if you want your Mexican tortillas to be 100% authentic you will have to find masa harina. It is a special kind of corn flour made with ground corn and lime. It might be quite difficult to find in some areas and cannot be made as it requires the corn to be processed in a special way.
The good news is that you can, as always, rely on the internet and buy masa harina online too.
You Will Need:
• 2 cups of masa harina
• Half a teaspoon of sea salt
• One and a half cup of hot water
• Mixing bowl
• Griddle or a frying pan
• Plastic wrap or the wax paper
• Tortilla press (optionally)
The Preparation Process :
Use a mixing bowl to combine masa harina and salt together. Pour the hot water into the mixture. Using your hands, form firm dough that does not stick to the bowl or your fingers. The dough has to stay moist as well. If you put a bit too much of the flour, and your dough turns too dry, do not panic, but just add some water until you reach the desired consistency.
Form a big ball of dough, and set it aside covered with a napkin. After an hour, turn your stovetop to medium heat and heat the griddle or the frying pan-whichever you have chosen to use.
Now form some small balls, similar to the golf ones. Use two sheets of wax paper or plastic wrap to flatten each ball and form round tortillas. The tortilla press would be a great addition at this point, but tortillas will be as good when you form them with your hands. Maybe your tortillas will not be perfectly round, but looks are not as important as taste when it comes to cooking.
Transfer the flattened tortilla onto the griddle or your frying pan carefully. Cook each one for about a minute on every side, or until you notice the brown marks. The tortillas will probably puff up in the middle when turned around but that is normal. If you are planning to make burritos right away, keep the tortillas wrapped in the kitchen cloth so that they stay warm.
Our Two Top Mexican Breakfast Burrito Recipes
Burritos can be quite demanding and time-consuming when it comes to preparing, especially if you want to do it in the traditional way. However, that is exactly what makes their taste so complex and fulfilling.
Our Mexican breakfast burrito recipes are not easy either, but we have chosen two versions- the first one is easier to make but includes some ready-made ingredients, and the second one honors the tradition to the letter but requires more time and effort.
Your possibilities will determine which version you will choose, but we can tell you one thing right away- neither will disappoint you!
The Mexican Breakfast Burrito Recipe- The Easier Version
As we have already mentioned, this version will take less time and effort to make but is not 100% true to the Mexican tradition as it contains a lot of compromising ingredients. It does taste great though and is definitely worth trying. Who knows? Maybe you like it so much that you make it your family tradition- all the traditions have to start somewhere, don't they?
You Will Need:
● Six medium-sized eggs
● Two cups (approx. 8 oz.) of shredded Taco Cheese
● Two tablespoons of water
● Two tablespoons of butter or margarine (we vote for butter)
● Eight flour tortillas( try to find 6-inch or 7-inch ones, or make them according to the recipe we have provided for you)
● One cup of chopped tomatoes
● Half a cup of sliced black olives
● Half a cup of chopped green onions
● Sour cream (this can be left out, especially if you are trying to cut down on the calories)
● Mixing bowl
● Two large skillets
The Preparation Process:
Make an egg mixture in a mixing bowl. To do so, first, beat the eggs with two tablespoons of water. Add one cup of shredded cheese to the mixture and set the mixture aside.
Turn your stove top on and set it to low heat. Use a large skillet and melt two tablespoons of butter. Pour the egg mixture in and cook the eggs while constantly stirring them. When you reach the desired consistency, remove the skillet from the stovetop.
Tortillas need to be heated a bit too. If you bought the tortillas, simply follow the directions on the package. If you made the tortillas, heat a little bit of butter in a skillet and warm every tortilla for a minute on each side.
When your tortillas are hot, spread the egg mixture onto them, top that with chopped tomatoes, sliced olives and onions, and the remaining shredded cheese. Fold the tortillas to form your burritos and serve them hot. You can add some sour crème to the serving plate if you like it too.
Mexican Breakfast Burrito Recipe- The More Complex Version
This version of Mexican breakfast burritos takes about forty minutes to prepare which is quite a lot for a breakfast meal, especially when you need to get to work or school in the morning. However their taste has so many levels- from the chorizo to the tomatillo salsa, that it is quite worth all the time and effort you need to invest.
You Will Need:
● A quarter of an onion, chopped
● One chopped jalapeno
● Eight eggs
● Four flour tortillas
● Mozzarella cheese (Monterey Jack will do too)
● Half a pound of chorizo (if you cannot find chorizo, you can use any sausage you like)
● One potato, cubed
● One teaspoon of chili powder
● Salt
● Black pepper
● Olive oil
● Baking pan
● Two skillets
● Whisk
● Mixing bowl
And For Tomatillo-Chipotle Salsa, You Will Need:
● Four tomatillos
● Two garlic cloves
● Two chipotles in adobo
● Baking pan
● Blender
The Preparation Process:
We will start by preparing the potatoes as that takes the longest. Season the potato cubes with salt and pepper to your liking and one teaspoon of chili powder. Sprinkle with olive oil. Preheat the oven to 400 degrees F and bake the potatoes in a pan for about twenty minutes. Remember to give them a toss after ten minutes or so.
Next, rinse and husk the tomatillos and then place them on a baking pan. The oven should already be set to 400 degrees F, so simply roast the tomatillos for quarter of an hour. They should turn army green when done. Remove the stems and seed from two chipotles in adobo. Use your blender to blend the tomatillos with two peeled garlic cloves and one chipotle. Taste to see if the heat level suits you. If not, add the second chipotle and repeat the process. You can also add some water for thinner salsa.
Preheat a skillet over medium heat and sauté the chorizo for up to five minutes on each side. Take another skillet, pour some olive oil and sauté the onion and jalapeno for five minutes or until tender. Break the eggs into the mixing bowl and whisk them together. Add the eggs to the onion and jalapeno mixture, and cook them over medium heat.
Now that you have all the elements ready, it is time to build the burritos. If your tortillas are cold, you need to heat them in a skillet for up to one minute on each side. Spread the egg-mixture onto them, add some potatoes, chorizo, cheese, and finally salsa. After you roll the burritos tight, you can sauté them in a dry skillet a minute or two to get a crispy crust. Serve them right away as they are best when eaten warm. Bon Appétit!
Conclusion
You should really invest your time and effort and try the both Mexican breakfast burrito recipes we have provided. We guarantee your satisfaction. But try to resist the temptation to eat them for breakfast every day of the week- they have too much calories for that! We are eagerly waiting to hear your impressions!