Introduction
Guava is a tropical fruit known for its vibrant flavor and distinct aroma. It is highly regarded for its unique taste profile, which combines sweetness, tartness, and tropical notes. In this comprehensive guide, we will delve into the taste, texture, and flavor characteristics of guava. From its juicy pulp to its aromatic essence, we will uncover the culinary experience that awaits you when you indulge in this remarkable fruit.
Texture
The texture of guava is a key aspect of its eating experience. Here's what you can expect:
Juiciness
Guava is known for its juiciness, which adds to its refreshing quality. The pulp is succulent and can have a slightly grainy texture due to the presence of tiny seeds. However, some guava varieties are seedless, offering a smoother texture.
Creaminess
When fully ripe, guava can have a creamy texture, especially near the skin. The flesh is soft and buttery, which contributes to its enjoyable mouthfeel.
Fibrousness
In some varieties, guava can have a slightly fibrous texture, similar to that of a pear or kiwi. The presence of fibers gives it a pleasant chewiness, adding dimension to the overall texture.
Crunchiness (Seeds)
If the guava variety has seeds, they can provide a subtle crunch when bitten into. While the seeds are edible, some people prefer to remove them due to their tougher texture.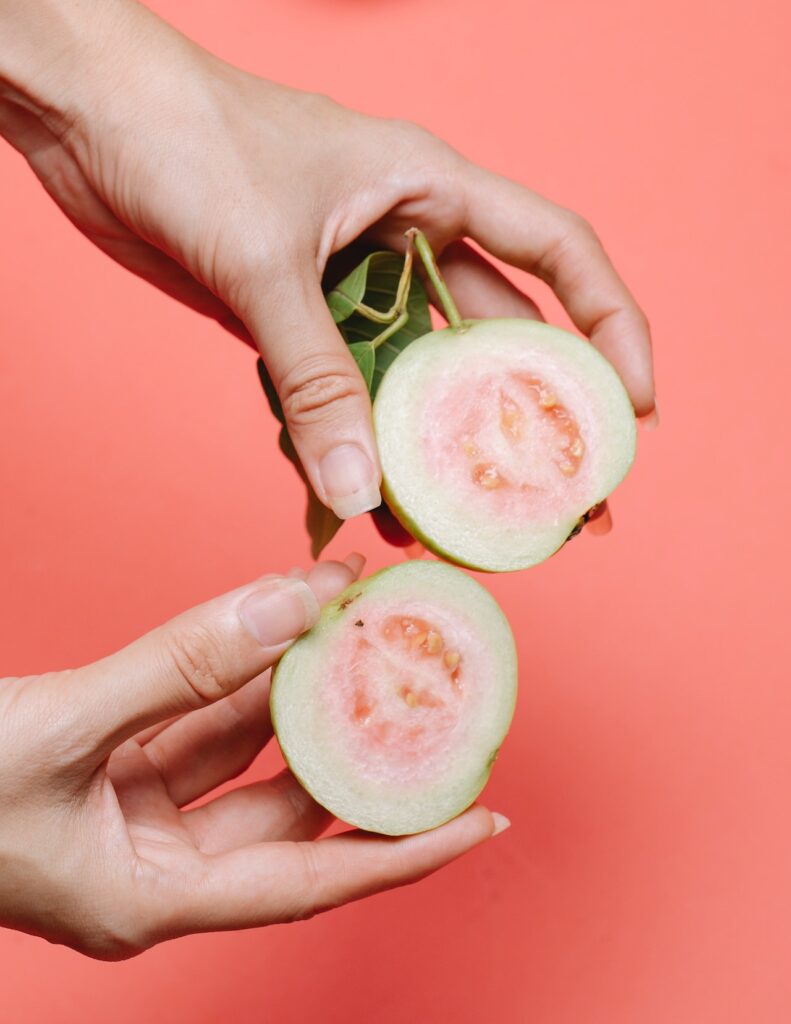 Flavor Profile
Guava boasts a unique flavor that sets it apart from other fruits. Its taste can vary depending on the variety, ripeness, and growing conditions. Here are the key aspects of guava's flavor profile:
Sweetness
Guava is known for its natural sweetness, which can range from mild to intensely sweet. When fully ripe, the fruit offers a delightful and satisfying sweetness that is balanced with other flavor components.
Tartness
Guava also possesses a tart or slightly acidic taste, especially when it is not fully ripe. This tartness adds a refreshing and tangy element to the overall flavor profile.
Tropical Notes
The flavor of guava often exhibits tropical notes, reminiscent of pineapple, papaya, and passion fruit. These fruity undertones contribute to its exotic and distinctive taste.
Floral and Musky Undertones
Guava can have subtle floral and musky undertones, adding depth and complexity to its flavor. These nuances enhance the overall sensory experience when consuming guava.
Varieties of Guava
There are various varieties of guava, each with its own unique flavor characteristics. Here are some popular guava varieties and their taste profiles:
Pink Guava
Pink guava is known for its sweet and musky flavor. It has a rich aroma and a vibrant pink flesh. The sweetness of pink guava is often accompanied by a hint of tropical and floral notes.
White Guava
White guava has a milder flavor compared to pink guava. It is slightly sweet with a hint of tartness. The flesh of white guava is cream-colored and can have a softer, less fibrous texture.
Yellow Guava
Yellow guava is prized for its sweet and aromatic flavor. It is often described as having a tropical taste with a tangy undertone. The flesh of yellow guava is yellowish-orange and has a smooth, creamy texture.
Strawberry Guava
Strawberry guava has a unique flavor that combines sweetness with a tangy strawberry-like taste. It is often regarded as having one of the most distinct and memorable flavors among guava varieties.
Culinary Uses and Pairings
Guava is a versatile fruit that can be used in various culinary preparations. Its unique taste and aroma allow for a range of pairing options. Here are some popular culinary uses and pairings for guava:
Fresh Consumption
Guava can be enjoyed fresh, simply by slicing it and eating the flesh directly. Its natural sweetness and refreshing taste make it a delightful snack on its own.
Juices and Smoothies
Guava is a popular ingredient in juices and smoothies due to its vibrant flavor and high vitamin C content. It can be blended with other fruits like pineapple, mango, or strawberry for a tropical and refreshing beverage.
Jams and Preserves
The natural sweetness and pectin content of guava make it an excellent fruit for making jams, jellies, and preserves. Its distinct flavor adds a unique twist to spreads and can be enjoyed on toast, pastries, or as a filling in desserts.
Desserts and Pastries
Guava is a fantastic addition to desserts and pastries. It can be used in cakes, pies, tarts, and custards, adding a burst of flavor and a tropical touch to the sweet treats. Guava-flavored ice creams, sorbets, and gelatos are also popular choices.
Savory Dishes
Guava can be used in savory dishes as well. It can be incorporated into salsas, chutneys, and sauces to add a sweet and tangy element. Guava-based glazes or marinades can enhance the flavor of grilled meats or seafood.
Conclusion
Guava offers a delightful sensory experience with its juicy texture, sweet-tart flavor, and tropical notes. Whether enjoyed fresh, blended into beverages, or incorporated into a range of culinary creations, guava brings a touch of exoticism to the palate. Its versatility and unique taste profile make it a beloved fruit in tropical regions and a favorite ingredient for those seeking new and exciting flavors. Embrace the taste of guava and let its tropical essence transport you to sun-kissed shores with every juicy bite.