Introduction
Octopus is a unique and fascinating seafood delicacy enjoyed in various cuisines around the world. With its tentacles and intriguing appearance, many people wonder what octopus tastes like. In this comprehensive guide, we'll delve into the taste, texture, and flavor profile of octopus. From its tenderness to its subtle brininess, we'll uncover the culinary experience that awaits you when you indulge in this remarkable seafood.
Texture
One of the defining characteristics of octopus is its texture. When cooked properly, octopus has a tender and delicate texture that can be quite enjoyable. Here's what you can expect:
Firmness
Octopus meat has a firm yet yielding texture. It is not as flaky as fish but has a satisfying bite that is both meaty and tender.
Chewiness
Octopus can be slightly chewy, especially when not cooked correctly. However, with proper cooking techniques, the chewiness can be minimized, resulting in a more tender and palatable texture.
Tentacles vs. Body
The texture can vary slightly between the tentacles and the body of the octopus. Tentacles are often more tender, while the body can have a slightly firmer texture.
Flavor Profile
Octopus has a distinctive flavor that sets it apart from other seafood. Although mild, it possesses unique characteristics that make it a sought-after ingredient. Here are the key aspects of its flavor:
Subtle Brininess
Octopus has a mild briny taste, reminiscent of the sea. It carries a hint of saltiness that enhances its overall flavor profile.
Sweetness
When cooked properly, octopus can exhibit a subtle sweetness, adding depth to its flavor. This sweetness pairs well with various ingredients and seasonings.
Umami Notes
Octopus contains natural umami flavors, which contribute to its savory taste. These umami notes add richness and depth to the overall culinary experience.
Absorbing Flavors
Octopus has a remarkable ability to absorb the flavors of the ingredients and seasonings it is cooked with. This makes it an excellent canvas for culinary creativity and allows it to take on a wide range of flavors.
Cooking Methods and Preparations
The taste of octopus can vary depending on the cooking method used. The way it is prepared and seasoned also plays a significant role in the final flavor. Here are some popular cooking methods and preparations:
Grilled Octopus
Grilling octopus imparts a smoky flavor while maintaining its tenderness. The charred exterior adds depth to its taste, complementing its natural flavors.
Braised or Stewed Octopus
Braising or stewing octopus results in a tender and flavorful outcome. Slow cooking allows the octopus to absorb the flavors of the braising liquid or stew, creating a rich and savory taste.
Raw or Ceviche
When consumed raw, such as in sushi or ceviche, octopus has a clean and fresh taste. Its natural flavors shine through, with a delicate brininess and a slightly crunchy texture.
Marinated Octopus
Marinating octopus before cooking infuses it with additional flavors. Common marinades include citrus juices, garlic, herbs, and spices, which further enhance its taste profile.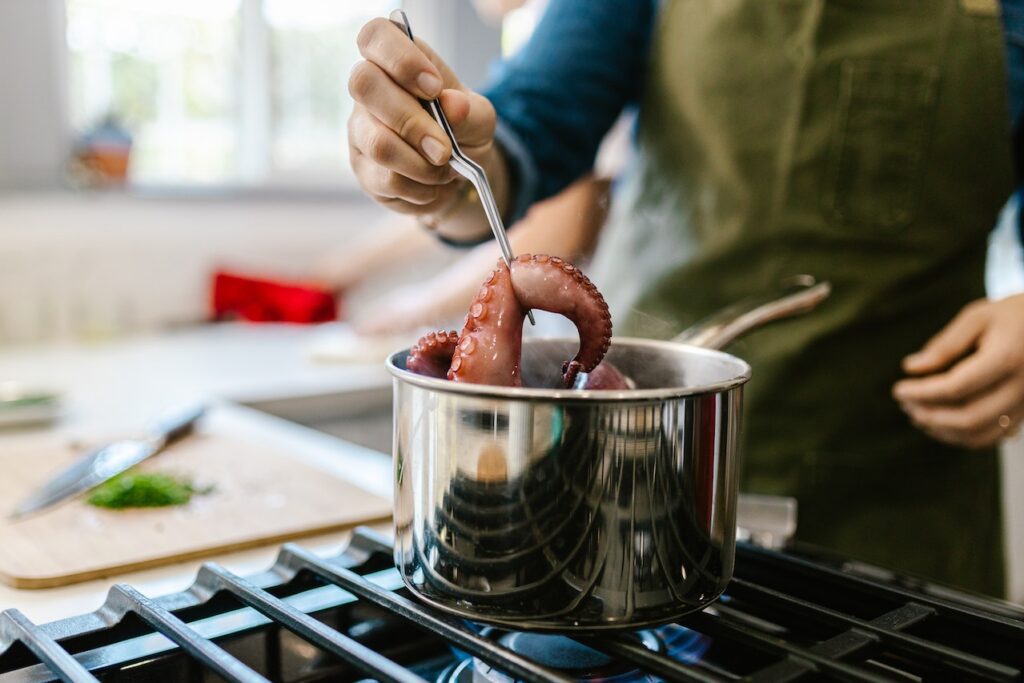 Culinary Uses and Pairings
Octopus is a versatile ingredient that can be used in various culinary preparations. Its unique taste and texture allow for a range of pairing options. Here are some popular culinary uses and pairings:
Mediterranean Dishes
Octopus is a staple in Mediterranean cuisine, particularly in dishes like Greek-style octopus, octopus salad, and Spanish pulpo a la gallega. It pairs well with olive oil, lemon, garlic, and herbs such as oregano and parsley.
Asian Preparations
Octopus is commonly used in Asian cuisines, including Japanese, Korean, and Thai dishes. It can be found in sushi, takoyaki (Japanese octopus balls), stir-fries, and spicy octopus stews. Asian flavors like soy sauce, ginger, and sesame oil work beautifully with octopus.
Seafood Combinations
Octopus can be paired with other seafood, creating delightful flavor combinations. It goes well with shrimp, scallops, squid, and fish in various dishes like seafood paella, seafood pasta, or mixed seafood salads.
Bold Flavors
Octopus can handle bold and robust flavors. It pairs well with chili peppers, spices, and aromatic ingredients like cumin, paprika, and coriander. These additions can elevate the taste of octopus and add complexity to the overall dish.
Conclusion
Octopus offers a unique culinary experience with its tender texture, subtle brininess, and delicate flavors. Whether grilled, braised, or enjoyed raw, octopus presents a range of taste profiles that can be enhanced through cooking methods and seasonings. Its versatility allows for diverse culinary creations, making it a beloved ingredient across different cultures. When prepared and cooked properly, octopus can surprise and delight your taste buds, offering a delightful seafood experience like no other.