Introduction
Freezing fresh tuna is a convenient way to extend its shelf life and preserve its quality for later use. Whether you've caught the tuna yourself or purchased it from a seafood market, proper freezing techniques can help maintain its taste and texture. In this guide, we'll explore the steps involved in freezing fresh tuna, including preparation, packaging, and storage. By following these guidelines, you can enjoy delicious tuna dishes even when it's not in season.
Preparation
Before freezing fresh tuna, it's crucial to prepare it properly. Follow these steps:
Selecting the Tuna
Choose high-quality fresh tuna for freezing.
Look for firm, glossy flesh with a vibrant color and a fresh ocean smell. Avoid tuna that appears dull, discolored, or has a strong fishy odor.
Cleaning the Tuna
Rinse the tuna under cold running water to remove any surface impurities, such as scales or blood. Use a clean knife to trim off any dark or discolored spots.
Portioning
Decide on the portion size you prefer for future use. It's recommended to cut the tuna into steaks or fillets that are suitable for your recipe needs. Uniformly sized portions freeze and thaw more evenly.
Seasoning (optional)
If you intend to use the tuna for a specific recipe, you can season it before freezing. However, keep in mind that some flavors may intensify during freezing and thawing, so use seasonings sparingly.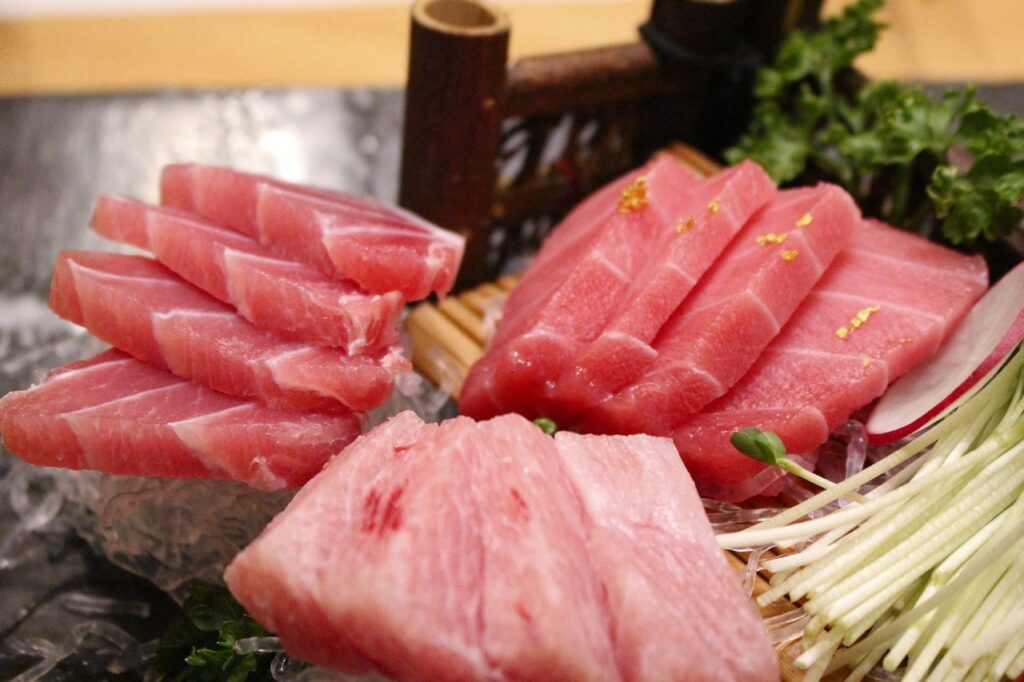 Packaging
Proper packaging is vital to prevent freezer burn and maintain the quality of the tuna. Follow these guidelines:
Wrapping
Individually wrap each portion of tuna tightly in plastic wrap or aluminum foil. This helps to protect it from air exposure, which can lead to freezer burn and moisture loss.
Double Wrapping (optional)
For an extra layer of protection, consider placing the wrapped portions into a resealable freezer bag or vacuum-sealed bag. Squeeze out as much air as possible before sealing to minimize freezer burn risk.
Labeling
Clearly label each package with the date of freezing. This ensures you can keep track of the tuna's age and use the oldest portions first for optimal freshness.
Freezing
Proper freezing techniques are crucial to preserving the flavor and texture of fresh tuna. Follow these steps:
Freezer Temperature
Ensure your freezer maintains a temperature of 0°F (-18°C) or below. This low temperature helps prevent the growth of bacteria and preserves the tuna's quality.
Freezing Time
Place the wrapped portions of tuna in the coldest part of the freezer. For optimal quality, freeze the tuna within 24 hours of purchase or catch. Frozen tuna can be safely stored for up to three months.
Rapid Freezing (optional)
For the best quality, you may choose to rapidly freeze the tuna. To do this, place the wrapped portions in a single layer on a baking sheet and put them in the freezer for a couple of hours. Once partially frozen, transfer them to the final storage containers or bags.
Thawing and Usage
When you're ready to use the frozen tuna, proper thawing is essential to maintain its texture and flavor. Follow these guidelines:
Slow Thawing:
The best way to thaw tuna is in the refrigerator. Remove the desired portion from the freezer and place it in a shallow dish or on a plate. Allow it to thaw slowly in the refrigerator for 24 to 48 hours.
Cold Water Thawing:
If you need to thaw the tuna quickly, you can use the cold water thawing method. Keep the tuna in its packaging and submerge it in a bowl of cold water. Change the water every 30 minutes to ensure it remains cold. Thawing time using this method is approximately one hour per pound (450 grams) of tuna.
Cooking from Frozen:
If you're in a rush, you can cook frozen tuna directly without thawing. However, keep in mind that the cooking time may be longer than usual. Make sure to adjust the cooking time and temperature according to the recipe instructions.
Usage:
Once thawed, use the tuna immediately. It's not recommended to refreeze previously frozen tuna, as it may compromise its quality and safety.
Tips for Freezing Fresh Tuna
Here are some additional tips to enhance your tuna freezing experience:
Freshness is Key
Freezing cannot improve the quality of tuna, so it's important to start with fresh fish for the best results.
Quality Storage Containers
Invest in quality freezer-safe containers or bags to protect the tuna from freezer burn and air exposure.
Portion Control
Consider portioning the tuna based on your anticipated recipe needs to minimize food waste.
Pre-freeze Marinade
If you prefer marinated tuna, you can freeze the fish and marinade together in a sealed bag. This allows the flavors to infuse during the freezing and thawing process.
Proper Thawing
Always thaw tuna in the refrigerator or using the cold water method. Avoid thawing at room temperature, as it can lead to bacterial growth.
Usage Variations
Frozen tuna is versatile and can be used in various recipes such as sushi, sashimi, salads, sandwiches, and grilled dishes. Explore different culinary options to make the most of your frozen tuna.
Conclusion
Freezing fresh tuna is an excellent way to preserve its quality and enjoy it at your convenience. By following the steps outlined in this guide, you can ensure that your frozen tuna retains its flavor and texture. Remember to prioritize proper packaging, storage, and thawing methods to maintain optimal quality. Enjoy your frozen tuna in a variety of delicious recipes, and savor the taste of the sea even when it's not readily available.