Introduction
In today's fast-paced world, finding convenient and nutritious ways to fuel our bodies is essential. Healthy smoothies have emerged as a popular choice due to their versatility, ease of preparation, and wide range of health benefits. These blended beverages offer a delicious and convenient way to pack essential nutrients, vitamins, and antioxidants into a single glass. In this article, we will explore the important benefits of incorporating healthy smoothies into your daily routine and how they can contribute to your overall well-being.
Nutrient Powerhouses
One of the most significant advantages of drinking healthy smoothies is their ability to deliver a concentrated dose of essential nutrients. By blending fruits, vegetables, and other nutrient-rich ingredients, smoothies become a nutritional powerhouse. They provide a convenient way to consume a variety of vitamins, minerals, fiber, and phytonutrients that are crucial for optimal health. Smoothies can be customized to include ingredients like leafy greens, berries, nuts, seeds, and superfoods, ensuring you get a wide array of nutrients in one delicious serving.
Enhanced Digestion and Gut Health
Smoothies, especially those containing fibrous fruits and vegetables, are excellent for promoting healthy digestion. The fiber content in smoothies supports regular bowel movements, helps prevent constipation, and maintains a healthy gut environment. Additionally, smoothies can be enriched with probiotic-rich ingredients like yogurt or kefir, which contribute to a healthy balance of beneficial gut bacteria. A healthy gut microbiome is linked to improved digestion, nutrient absorption, immune function, and even mental well-being.
Increased Fruit and Vegetable Intake
Many individuals struggle to meet their recommended daily intake of fruits and vegetables. Smoothies provide a convenient solution by allowing you to incorporate a variety of produce into a single drink. This boosts your overall fruit and vegetable intake and ensures that you obtain a diverse range of vitamins, minerals, and antioxidants. By regularly consuming smoothies, you can bridge the gap between your recommended intake and the actual amount of fruits and vegetables you consume.
Weight Management and Satiety
Healthy smoothies can be a valuable tool for weight management. When prepared with nutritious ingredients and balanced proportions, they can serve as a satisfying meal or snack option. The fiber and protein content in smoothies help promote feelings of fullness, reduce cravings, and prevent overeating. Additionally, incorporating ingredients like healthy fats (avocado, nut butter) and protein sources (Greek yogurt, tofu) can further enhance satiety and support weight loss or maintenance goals.
Hydration and Detoxification
Staying hydrated is crucial for overall health, and smoothies can contribute to your daily fluid intake. They provide a refreshing and hydrating option, especially when made with water, coconut water, or herbal teas as the base. Moreover, certain ingredients like cucumber, celery, and watermelon have high water content, aiding in hydration. Smoothies can also support natural detoxification processes by including ingredients like lemon, ginger, or leafy greens, which promote liver health and assist in flushing out toxins from the body.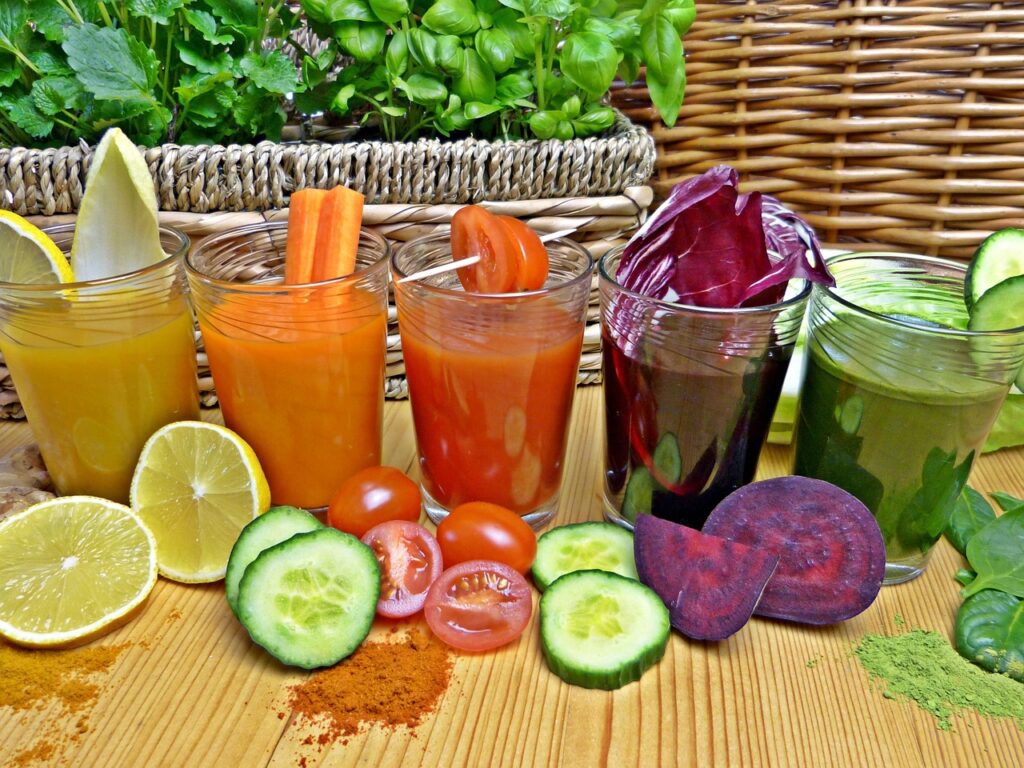 Conclusion
Drinking healthy smoothies offers an array of benefits, including increased nutrient intake, improved digestion, enhanced fruit and vegetable consumption, weight management support, and hydration. With countless recipe combinations available, you can customize smoothies to suit your taste preferences and dietary needs. By incorporating nutrient-dense ingredients, smoothies can become a delicious and convenient addition to a balanced and healthy lifestyle. Embrace the goodness of smoothies and unlock the potential for improved well