Mexican cuisine is highly appreciated for many reasons, and one of them is Caldo de Camarón – Mexican Shrimp Soup. If you love shrimps, this hearty soup full of flavors and nutrients will take you over the moon. If you are Mexican, it is sure to take you down the memory lane as well. It is a dish deeply rooted in the Mexican tradition and always made with love.
Read our top three Mexican shrimp soup recipes and find the one that you will make a part of your family tradition!
Why Eat Shrimps?
Before we move on to our delicious Mexican shrimp soup recipes, we would like to pay our homage to this highly nutritious and super-healthy seafood. Shrimps are consumed with delight all over the globe due to their mild and sweet taste which reminds of that of a lobster but costs way less. However, the taste is not the only asset of the shrimps as they can bring much more to your plate.
First of all, we will mention two things shrimps lack in- mercury and calories! That is, of course, great news, especially if you are on a low-calorie diet. To be precise, one gram of shrimps has only one calorie due to high water content. They are also packed with protein containing almost no harmful saturated fat. High in iron, shrimps can help you resolve the deficiency of this important nutrient as well.
Shrimp are supercharged with vitamins too. They will thus provide you with a fair amount of vitamins B12, B6, B3, A, D, E, and even vitamin C. Shrimps are also rich in selenium, magnesium, sodium, copper, and zinc. What does this mean?
The vitamins and minerals present in shrimps will help you stay energized, but also lose the extra weight, stay young-looking, and have beautiful, strong and shiny hair and nails. Most importantly, shrimp can aid in the prevention of some cancers such as lung, colorectal, and prostate ones.
Top 3 Mexican Shrimp Soup Recipes
There are many versions of the Mexican shrimp soup recipes, but we have tried many and chosen the top three to present to you.
RECIPE #1
You will need around half an hour to prepare this great Mexican shrimp soup that you can eat for your lunch or dinner. It is a great dish to welcome your guests with as well, especially if they are Hispanic. The array of vegetables present in this soup will, together with the super-healthy shrimps, guarantee a wholesome and nutritious meal packed with beneficial nutrients your body craves for.
The Ingredients:
• One tablespoon of olive oil
• One peeled potato cut into cubes
• Two peeled and sliced carrots
• A half of onion, diced
• One minced garlic
• Three dried chile guajillo cleaned from seeds
• Six cups of water
• One Caldo de Camarón bouillon cube
• 1 lb of shrimps ( you need to peel and devein them)
• Juice of two limes
• A handful of roughly chopped cilantro
• Salt and pepper to taste
• Pot with a lid
• Large stock pot
• Blender
The Preparation Process:
Measure two cups of water and pour them into the pot. Turn the stovetop to medium heat and let the water boil. In the meantime, clean the guajillo chile from the stem and seeds. When clean add them to the boiling water, remove the pot from the heat close it with a lid and leave it aside to cool.
Continue by heating the olive oil in a large stockpot and frying the potatoes and carrots for about three minutes. Be sure to stir the whole time.
Use the blender to blend the guajillo chile and the water it was sitting in. Next, add the garlic and onion and continue mixing until you get the smooth mixture with no lumps. Finally, pour this guajillo mixture into the stockpot.
To finalize your Mexican shrimp soup add four remaining glasses of water and Caldo de Camarón bouillon and bring the content to simmer. After ten minutes (or when you are sure the carrots and potatoes are tender enough), add the shrimps and lime juice. Let the soup boil simmer for another ten minutes and then spice it up with cilantro. Taste for good measure and you can move on to serving it.
RECIPE #2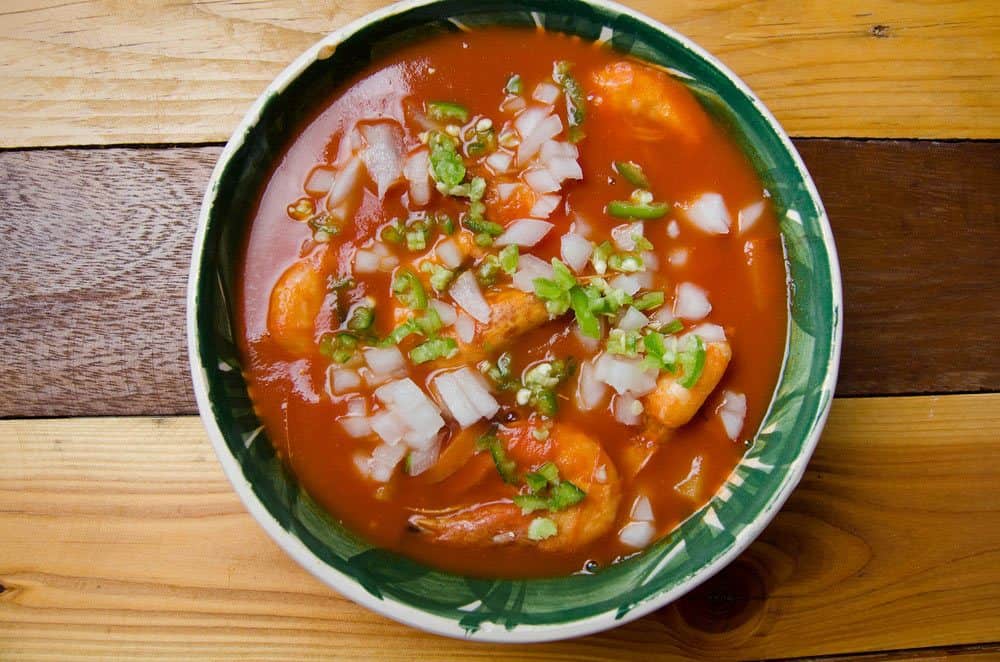 This version takes a bit longer to prepare, (around forty-five minutes) but is extra light and makes a perfect low-calorie meal option. The tomatoes give it a whole different flavor worth exploring.
The Ingredients:
• Eight ounces of peeled and deveined shrimp
• One small onion, chopped into small pieces and one small onion thinly sliced
• Half of the medium-sized tomato cleaned from the core and seeds and finely chopped
• One large egg yolk
• Two tablespoons of all-purpose flour
• Half a teaspoon of dried oregano
• One tablespoon of vegetable oil
• One fresh poblano- roasted, peeled, seeded, and cut into strips
• Seven ounces of chopped tomatoes
• four cups of fish broth
• Quarter of a cup of chopped cilantro
• Two limes lime
• Salt
• Food processor
• Large bowl with a lid
• Pot
The Preparation Process:
The first step is to prepare the meatballs, and to do so you need to chop the shrimp in a food processor. Take a large bowl and unite the processed shrimp with the chopped onion and tomato, egg yolk and flour. Add oregano and salt to your taste. Close the bowl and place it in a refrigerator.
In the meantime prepare the broth. Start off by heating the oil in a pot and cooking the sliced onion for about five minutes. Next, add the poblano chile and chopped tomatoes and continue cooking for 3-4 minutes. Finally, pour the broth in, season the soup with salt, and let it boil. When it boils, reduce the heat, cover the pot and let the content simmer for a quarter of an hour or so.
It is now time to cook the meatballs, so take out the shrimp mixture out of the refrigerator, form it into little balls and throw them into the soup. The meatballs should simmer for ten minutes.
Your Mexican shrimp soup is now ready, serve it with a bit of sprinkled chopped cilantro and lime wedges on the side. Bon Appetit!
RECIPE #3
If you want to make a Mexican shrimp soup that can substitute your whole meal, this is the version to choose. Namely, this recipe includes corn and tortillas which will keep you satiated longer. Do mind the extra calories though!
The Ingredients:
• One and a half tablespoons of vegetable oil
• Four 6-inch corn tortillas cut into strips
• One cup of chopped red bell pepper
• One teaspoon of ground cumin
• One teaspoon of dried oregano
• Two minced garlic cloves
• Two seeded jalapeño peppers chopped into small cubes
• One can of diced tomatoes (you need to drain them well)
• One can of fat-free chicken broth (preferably with less sodium)
• One bottle of clam juice
• 2 cups of fresh corn kernels
• One and a half pounds of peeled and deveined shrimp
• Half a cup of chopped green onions
• Quarter of a cup of chopped fresh cilantro
• Quarter of a cup of fresh lime juice
• Black pepper
• Salt
• Dutch oven
• Pan
• Paper towels
The Preparation Process:
Turn the stovetop to medium heat and warm one tablespoon of oil in a Dutch oven. Sauté the tortilla strips for about five minutes or until they become crisp. Drain the strips on the paper towels.
Without reducing the heat, add one and a half teaspoons of oil to a pan. Combine chopped red bell pepper with ground cumin, dried oregano, minced garlic cloves and diced tomatoes. After a few minutes, add the broth and clam juice as well and let the soup boil.
Once it boils, lower the heat, and let the content simmer for about five minutes more. Finally, add corn and shrimp and cook for another three minutes or until you are sure the shrimp are done. Once you are sure, remove the pan from the stovetop and add onions and cilantro.
Once you serve the soup in the bowls, you can add lime juice and black pepper to your preference and divide the tortilla strips over each serving. Enjoy!
Conclusion
As you can see, eating shrimp will definitely benefit you. The best way to do it is to combine them with other healthy food such as colorful and nutritious veggies! For this reason, we have provided you with three excellent and tasty Mexican shrimp soup recipes; you simply need to try them all and choose your favorite one! We guarantee that you will enjoy the whole process!