Section 1: Introduction
Welcome to the world of refreshing and tangy orange juice! Packed with numerous benefits and a burst of vibrant flavor, orange juice has rightfully earned its place as a beloved beverage. From its impressive nutritional profile to its versatility in various recipes, orange juice is a true delight for both health enthusiasts and food lovers alike. In this guide, we'll explore the incredible benefits and nutritional value of orange juice, as well as share some delightful recipes that showcase the versatility of this citrus superstar. Get ready to embrace the zesty goodness of orange juice and unlock a world of wellness and culinary creativity!
Orange juice is a popular and refreshing beverage that has been enjoyed for centuries. Known for its bright color, zesty flavor, and invigorating aroma, orange juice is a versatile drink that can be consumed on its own or used as a base for various recipes. But beyond its delicious taste, orange juice offers a wide range of health benefits and is a rich source of essential vitamins and minerals. In this comprehensive guide, we will delve into the numerous advantages of orange juice, explore its impressive nutritional value, and provide you with some delightful recipes to incorporate this citrus superstar into your daily routine.
Section 2: Benefits of Orange Juice
Immune System Boost
Orange juice is renowned for its high vitamin C content, which plays a vital role in supporting a healthy immune system. Regular consumption of orange juice can help strengthen the body's natural defense mechanisms, reduce the duration of common colds, and protect against various infections.
Antioxidant Powerhouse
Orange juice is loaded with antioxidants such as flavonoids and carotenoids, which help combat oxidative stress and neutralize harmful free radicals in the body. These antioxidants have been linked to a reduced risk of chronic diseases, including heart disease, certain cancers, and age-related macular degeneration.
Heart Health
The abundance of potassium in orange juice promotes heart health by maintaining healthy blood pressure levels. Furthermore, the presence of flavonoids in orange juice has been associated with a reduced risk of cardiovascular diseases, as they help improve blood circulation, reduce inflammation, and enhance blood vessel function.
Digestive Health
Orange juice contains dietary fiber, which aids in maintaining a healthy digestive system. It helps prevent constipation, promotes regular bowel movements, and supports the growth of beneficial gut bacteria.
Skin Health
The vitamin C in orange juice is essential for the production of collagen, a protein that supports skin health and elasticity. Regular consumption of orange juice can help improve skin texture, reduce wrinkles, and give you a healthy, glowing complexion.
Hydration
Orange juice is a great source of hydration due to its high water content. Staying adequately hydrated is crucial for overall health and well-being, as it supports various bodily functions, including temperature regulation, nutrient transport, and waste removal.
Section 3: Nutritional Value of Orange Juice
Vitamin C
Orange juice is renowned for its exceptional vitamin C content. Just one cup of orange juice can provide you with more than 100% of the recommended daily intake of this essential nutrient. Vitamin C is crucial for immune function, collagen synthesis, iron absorption, and overall health.
Other Vitamins
In addition to vitamin C, orange juice is a rich source of other vitamins, including vitamin A, thiamine (B1), folate (B9), and potassium. These vitamins play a crucial role in maintaining various bodily functions, such as vision, energy metabolism, and nerve function.
Minerals
Orange juice contains essential minerals like potassium, magnesium, and calcium. Potassium helps maintain healthy blood pressure, while magnesium supports muscle and nerve function. Calcium is essential for strong bones and teeth.
Phytonutrients
Orange juice is abundant in phytonutrients such as flavonoids, carotenoids, and hesperidin. These plant compounds offer antioxidant and anti-inflammatory benefits, and they have been associated with a reduced risk of chronic diseases, including certain cancers and cardiovascular conditions.
Section 4: Recipes with Orange Juice
Classic Orange Juice
Start your day with a glass of freshly squeezed orange juice. Simply extract the juice from ripe oranges and enjoy the pure, tangy flavor packed with natural sweetness.
Orange Smoothie
Blend orange juice with your favorite fruits like bananas, strawberries, and pineapple for a delicious and nutritious smoothie. Add yogurt or almond milk for a creamy texture and enjoy a refreshing start to your day.
Citrus Salad Dressing
Create a zesty dressing by combining orange juice, olive oil, honey, and Dijon mustard. Drizzle it over your favorite salad for a burst of flavor and a touch of sweetness.
Orange-Glazed Salmon
Prepare a mouthwatering orange glaze by combining orange juice, honey, soy sauce, and ginger. Brush it over salmon fillets and bake until the fish is tender and coated in a sticky, citrusy glaze.
Orange Chicken Stir-Fry
Sauté chicken breast with colorful bell peppers, broccoli, and a tangy orange sauce made from orange juice, soy sauce, honey, and garlic. Serve it over rice or noodles for a vibrant and satisfying meal.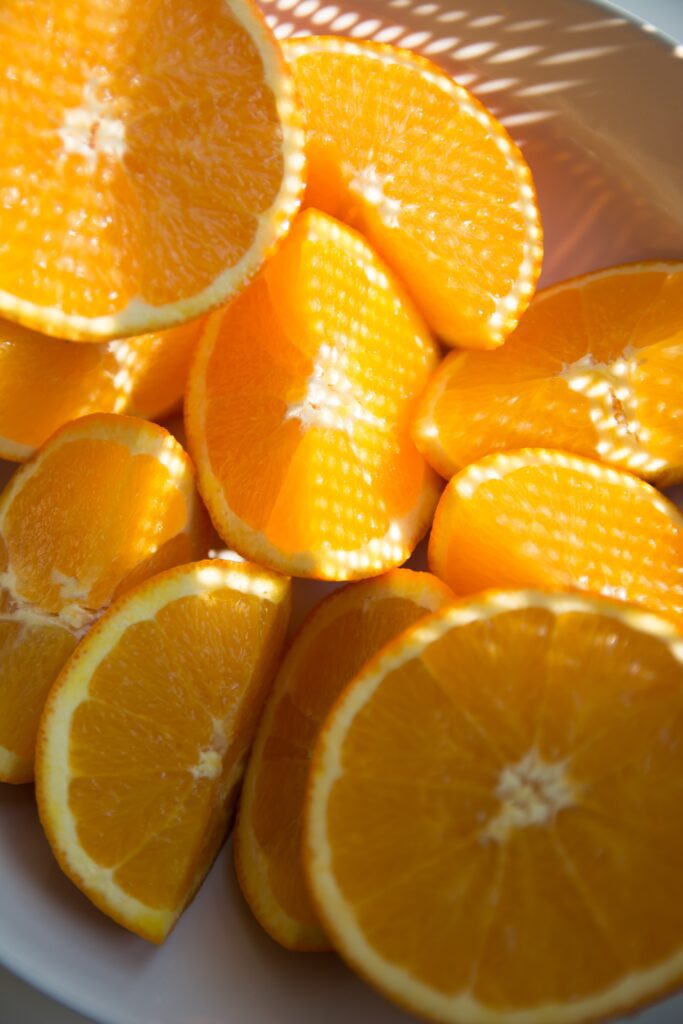 Conclusion:
Orange juice is not only a delicious and refreshing beverage but also a nutritional powerhouse with a plethora of benefits. From boosting the immune system to promoting heart health, supporting digestion, and enhancing skin health, orange juice offers a wide range of advantages due to its rich nutrient content. Whether you enjoy it on its own or incorporate it into recipes, orange juice is a versatile ingredient that can elevate your culinary creations while providing essential vitamins, minerals, and antioxidants. Embrace the goodness of orange juice and experience the incredible benefits it has to offer for your overall health and well-being.